General Introduction
Www.newsuntoys.com is one of the leading toys exporters in China. At present, our main business is toys. To provide a variety of goods to foreign customers, we keep a close relationship with thousands of toys manufacturers around China, and received a good reputation among them for fair play and good faith.
E-commerce
Inspired by the web economy, we establish effective Intranet and a large B TO B website ---- www.newsuntoys.com.. Over 150,000 different toys are registered in this website. Over 3000 latest toys updated every month. Customers can directly choose what they want through web and get a quotation. This greatly improves the efficiency of the whole company and reduces the operating cost.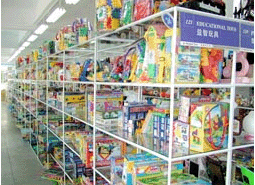 Showroom
We have a 5000 square meters showroom in Chenghai, China's biggest toys production base. Over 150,000 different samples are displayed in the samples room. We have adopted computer management system since 2002,which can highly improve our efficiency. Believing that we can offer the best service to our customers.
Branches
We have five branches in Shantou, Anhai, Yiwu, Yangzhou and NIngbo in mainland of China. They help us to keep a compact supervision and control on toys producing and purchasing processes, which guarantees to carry out the order forms on time.